The Marvels is muddled, but it still stands up as this refreshingly goofy and enjoyable superhero romp, notes Mayur Sanap.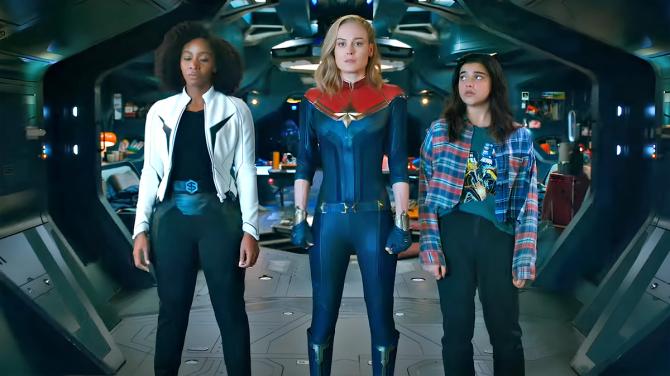 Alright, since the superhero fatigue is a real thing and the Marvel timeline keeps getting increasingly convoluted, here's a quick update: A flashily titled The Marvels is the 33rd film in the phase five of the Marvel Cinematic Universe.
And as it is a norm with these films, being familiar with the previous outings helps to make more sense, particularly when Marvel also has got a bevy of television shows on their portfolio.
In this case, the film takes a cue from Ms Marvel and WandaVision, but thankfully, there's enough exposition here to enjoy it as standalone feature if you've at least followed the films.
Set right after the events of its predecessor, Carol 'Captain Marvel' Danvers (Brie Larson) is somewhere in the space station after destroying the Supreme Intelligence, the entity that ruled the alien race known as the Kree.
Enters Dar-Benn (Zawe Ashton), a Kree warrior leader, who is out to save her dying planet and seek revenge on Carol for ravaging it. Her masterplan is to steal resources from other planets, including Earth, with the help of the artefact -- an ancient magical bracelet -- which she possesses only one half of.
To complete her grand plan, she needs the other half of the bracelet that Kamala 'Ms Marvel' Khan (Iman Vellani) has.
There is also Monica 'Lieutenant Trouble' Rambeau (Teyonah Parris) who is investigating these strange occurrences along with Nick Fury (Samuel L Jackson).
Dar-Benn's activities go haywire as she wreaks havoc in space and time which inadvertently causes Carol, Monica and Kamala's powers to intermingle with each other. This pushes the trio to work together and stop Dar-Benn from creating further damage to the universe.
Directed and co-written by Nia DeCosta, the most noticeable thing about this sequel is its refreshing tonal shift from 2019's Captain Marvel.
It is more fun, action packed, and doubles down the Marvel's trademark light humour that the first one had.
It is set very well within the superhero realm and plays out as buddy comedy about three uniquely dissimilar women learning to meld as a team.
The film has flashes of James Gunn's very likable Guardians of the Galaxy series and Taika Waititi's misfire Thor: Love and Thunder with its do-not-take-it-too-seriously approach, and mostly, it hits the right note rendering an effective crowd-pleaser.
The first act especially is brimming with many hysterical moments that keep us thoroughly engaged. The teleportation skills that make the trio switch places when they use their powers, provide some really inventive edge to the effects-laden action.
But while the cool set-pieces make the runtime of less than two hours fly, the basic storyline restricts The Marvels to reach soaring heights.
At its core, the film is ultimately a standard superhero package that follows the same old, predictable, beats we have seen in umpteen times before.
What also doesn't work is the extremely generic villain.
Even in shrill ventures like Ant-Man and the Wasp: Quantumania, Marvel gave us captivating anti-hero in form of Jonathan Majors's Kang.
But here, the high-stakes never feel real due to lack of formidable adversary.
Though Zawe Ashton makes the best of what she can, there's no development to her vengeful Dar-Benn making her one-note and pretty bland.
Some of the key plot points also feel rushed probably to keep the sleek duration in check.
At one particular instance, Carol is vulnerable talking with Monica about their long, shared history. It's heart-warming that they are nursing their wounds by keeping their past differences behind.
But immediately after, the moment is moved on from so quickly, we barely feel the emotional weight of the scene.
The beating heart of the film is the three brilliant leading stars Brie Larson, Teyonah Parris and Iman Vellani whose dynamic gush with charm and together they do the heavy-lifting quite effortlessly.
Iman, especially, makes it more fun.
As wide-eyed, fan-girling Ms Marvel, she is essentially Tom Holland's dippy Spider-Man from Captain America: Civil War, and the young actress absolutely steals the show with her endearing charm.
The Marvels is, very simply, a muddled effort that should really have been better than it is but it manages to stand up as this refreshingly goofy and enjoyable superhero romp.
Oh, and there is also a Bollywood style duet and dance number that is just electric.
A Marvel film has rarely been this vibrant!
The Marvels Review Rediff Rating: