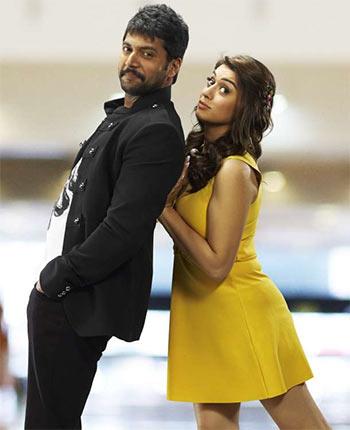 Composer D Imman catches the mood really well in Romeo Juliet, writes Lakshmikanth Jaganmohan.
Romeo Juliet is the maiden directorial venture of Lakshman who had earlier produced the 2006 film Kalvanin Kadhali. 
Starring Jeyam Ravi and Hansika Motwani, the movie is a romantic comedy. Poonam Bajwa is cast in a supporting role and Arya makes a guest appearance. 
D Imman composes the soundtrack and background score for the film and G Rokesh, Madhan Karky and Thamarai have penned the lyrics. 
The surprise element of this album is Vishal Dadlani lending his voice to two tracks. Both are brilliant. 
The album starts with Danda Nakka which is a boisterous and riotous ode to T Rajendar. In spite of the many controversies surrounding this song, it has become the rage. 
Anirudh is the apt choice for this song. The highlight is that Rokesh (of Danga Maari from Anegan) has written the lyrics based on Chennai street slang. The track blends in some retro. 
Thoovanam is next. In characteristic Imman style, the song starts with the electric guitar. The flute slowly takes over, giving the song the required elegance. 
Vishal Dadlani's baritone voice is highly seductive. He takes pains to get the diction right. 
Sunitha Sarathy's slow humming adds to the appeal of the song, which has lyrics by Thamarai. 
Vaikom Vijaylakshmi is breathtakingly good in Idarkuthaaneaasaippattaai, a retro-ish jingle. 
Imman too does a fantastic job in the song's imaginative orchestration, particularly the chorus that plays midway and beautifully mixes with the mainstream. 
The lyrics by Madhan Karky are good.
Adiyae Ivalaey is a desolate track etched in a gaana style. Anthony Dasan sings and Madhan Karky has composed the lyrics. However, the song fails to make an impression. 
Romeo Romeo, touted as a party number, is sung by Vishal Dadlani. It's a foot-tapping number with contemporary lyrics by Madhan Karky that go well with the theme of the song. 
The sound of the sitar can be heard in the middle which gives the number the required pull back before taking another leap. 
The reprise version of Thoovanam is hummed by Sunitha Sarathy and keeps intact the original version. A good number, but it lags a tad behind Vishal's baritone voice. 
D Imman gives a good album, particularly with Danda Nakka and Thoovanam catching the mood right away. 
Rediff Rating: