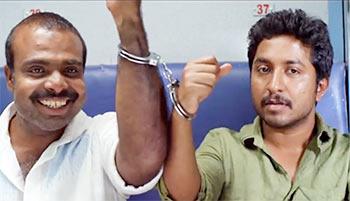 Director duo  Jexson Antony and Rejis Antony did obviously did not want the title to be reflective in the film but somehow that's just what the film has to offer says Paresh C Palicha.
Oru Second Class Yatra is a small film going by its star cast, budget and crew.
It is just around one hour and 45 minutes long. Vineeth Sreenivasan and Chemban Vinod Jose play leading roles.
The film is scripted and directed by Jexson Antony and Rejis Antony.
Two convicts are being transferred by train from Kannur to Thiruvananthapuram by two constables who don't see eye to eye. Joju George plays the lewd and funny policeman Jolly Kurien, while Sreejith Ravi plays the serious and brooding Balagopal.
The convicts, Nandu (Vineeth Sreenivasan) and Maran (Chemban Vinod Jose), are also contrasting characters. Maran is a thief and Nandu has killed his mother.
Maran was brought up by a Tamil lady and has ended up in jail because of her naiveté.
Nandu, who seemed to have had a wholesome family life (even though the family is poor) is the more intense of the two. He manages to escape midway through the journey and the two policemen have no choice but to join forces to track him down.
The directors seem to be in a hurry to bring the film to an end and the climax seems to be heavily inspired by Drishyam as far as hiding a dead body goes.
Vineeth Sreenivasan has appeared in the memorable two-hero films Cycle (2008) and Chappa Kurishu (2011). This, his third film, is not quite so memorable.  
Vinod Jose as Chemban is not just a comic sidekick, but is on equal footing with (if not a couple of steps ahead of) Vineeth.
Joju George and Sreejith Ravi, who seem to be the pivot of the story in the initial stages, merge into the background midway, and emerge again at the end to tie up the loose ends.
The director duo obviously did not want the title of the film - Oru Second Class Yatra –to be reflective of the film, but somehow that's just what the film is - a second class yatra (journey).
Rediff Rating: