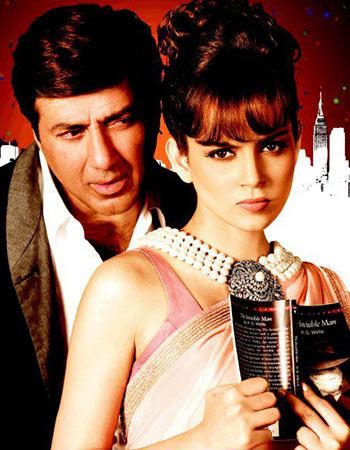 The music of I Love NY will stay with me regardless of how long the film plays in theatres, writes Aelina Kapoor.
I remember listening to the music of I Love NY when it released in 2013. I was hooked to the romantic tunes that Pritam had composed, with several lyricists supporting him for a song apiece.
The promos were out as well, and the release date was announced. 
But there was no sign of the film.
The music disappeared as well.
So I was surprised and happy to see the promos of I Love NY back on screen. The film was probably resurrected thanks to its leading lady Kangana Ranaut, making waves with her latest release, Tanu Weds Manu Returns, a blockbuster.
When I heard the music again, it did not sound dated at all.
The soundtrack kicks off with a dance number in Gud Naal Ishq Mitha. This folk number has been presented in a new avatar with lyricist Mayur Puri coming together with Pritam.
It is a fun, fast-paced number. The arrangement ensures that your feet are tapping right through its playing time.
Melody takes centre-stage and the sound of the guitar is heard right at the start of Aao Na. The silky voice of Sonu Nigam in this Sayeed Quadri written number has romance written all over it.
Aao Na is a lethal mix of melody and rhythm. Tulsi Kumar joins in to sustain the lovey-dovey mood of this song that one would like to hear again.
Falak Shabir is the guest artist here and makes sure that he rocks the show in his triple role of composer, lyricist and singer. His heartfelt Judaai is the stuff that heartbreak is made of. One can't get enough of this one on loop. It's a bit sad but never depressing. The combination of good music, impressive lyrics and heartfelt rendition does the needful.
Later, the 'unplugged version' makes an appearance as well and you are hooked on to it all over again.
Smiles are back with Shaan's rendition of Halki Halki. He and Tulsi Kumar engage in a jugalbandi that is bound to bring smiles to faces as it plays on screen.
In the film, Kangana looks like a million bucks in this song, and Sunny Deol comes across as the rather cute lovelorn gentleman.
Lyricist Mayur Puri spins a romantic number that is suitably youthful.
I enjoyed revisiting the soundtrack of I Love NY. It will stay with me regardless of how long the film plays in theatres.
Rediff Rating: