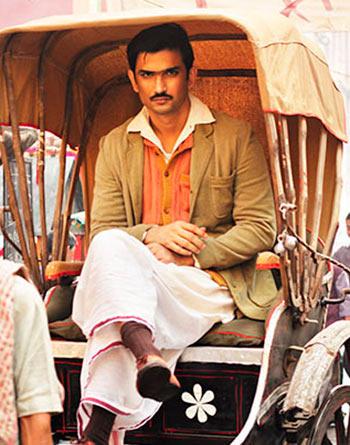 Detective Byomkesh Bakshy's soundtrack is distinctly un-Bollywood, writes Joginder Tuteja.
Dibakar Banerjee's Detective Byomkesh Bakshy has seven tracks. Since the singers, lyricists and composers are mostly newcomers, the soundtrack is distinctly un-Bollywood.
The film is set in the 1940s, and the opening number is an ode to that era -- a jazzy number called Calcutta Kiss.
It is written and composed by Madboy/Mink. Saba Azad and Imaad Shah belt out this racy number. 
'Door banging' forms the base sound for the start of Bach Ke Bakshy, an eclectic mix of Hindi and English lyrics. It is put together by Sneha Khanwalkar and Dibaker Banerjee, who handles the music as well as lyrics here.
This title track is haunting, fun and absolutely original. It is sung by an array of first-time singers -- Gowri Jayakumar, Big Deal, Thomson Andrews and Trevor.
The rap portion is taken care of by Smokey the Ghosht and Craz Professa. 
Rishi Bradoo is another new name, who writes as well as sings Byomkesh In Love. Anil Bradoo joins in with Usri Banerjee taking the lead.
The lyrics are in English and Hindi. Blek has composed the piece as a mix of pop and desi. Primarily composed as a background track, it is strictly situational.
Peter Cat Recording Co (PCRC) takes the credit for the music of Jaanam, written and sung by Suryakant Sawhney. This fusion track blends Western and Indian sounds from the 1940s and has a poetic flavour.
The theme track Chase In Chinatown is a killer. It has a good mix of instruments and is composed by Mode AKA.
Quite some time is (well) spent in setting up the base for the song, and then Vyshnav Balasubramaniam, Sandeep Madhavan (who has also penned the lyrics) and Manas Ullas take over the singing. It is a hardcore Western piece.
Another rock outing comes next with Joint Family (yes, that's what the credits for the music read) putting together Life's A Bitch.
In line with his lyrics, Akshay De goes all wild-n-rock with this track that is loud, bold and, at times, a but hoarse!
The soundtrack ends with Yang Guang Lives. It has a haunting, intriguing theme.
The music of Detective Byomkesh Bakshy scores high on originality but it's not all exciting.
It's obvious that Aditya Chopra has had no influence in putting together this soundtrack, as there are no signature Yash Raj Films tunes.
It is a Dibakar Banerjee show all the way.
Rediff Rating: