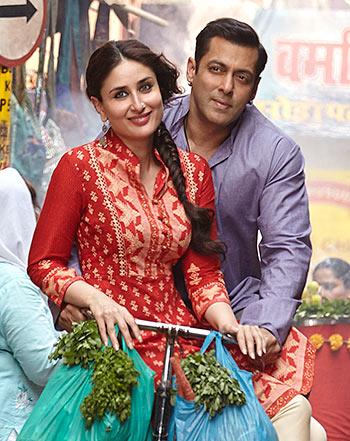 'Bajrangi Bhaijaan music is not quite an out-and-out Salman Khan soundtrack. But songs like Selfie Le Le Re and Aaj Ki Party keep energy levels high, writes Aelina Kapoor.
The promotion of Bajrangi Bhaijaan's music with the Selfie Le Le Re track made it clear that composer Pritam was going to let his hair down.
And it's a fun number to kick-start the proceedings.
But as it turns out, the music isn't typically Salman Khan style. It could be because a number of lyricists (Mayur Puri, Amitabh Bhattacharya, Kausar Munir and Shabbir Ahmed) get to write a song apiece.
Selfie Le Le Re is the right song to introduce Salman Khan with a bang. Since the film is aimed at a family audience, with kids expected to lap up Salman's antics, the Mayur Puri written Selfie sets the mood.
High on rhythm, it plays on in your mind after just one hearing. For that, one has to credit its singers: Vishal Dadlani, Nakash Aziz, Pritam Chakraborty, Url and Aditya Pushkarna.
Tu Chahiye, with lyrics by Amitabh Bhattacharya, has Salman Khan serenading Kareena Kapoor Khan in the voice of Atif Aslam.
Atif has a unique way of singing and he lives up to expectations with this soft number. 
The Sufi sounding Bhar Do Jholi Meri is sung by Adnan Sami. If you are fond of qawwalis with a devotional touch, this Kausar Munir written number should suit the bill.
It runs for a really long run time as Salman goes on his journey to find the Pakistani household of the little girl in the film.
The Mika Singh sung Aaj Ki Party elevates the proceedings instantaneously. The singer is totally uninhibited in this full-on energy number. But it is surprising that there is no female accompaniment in this Shabbir Ahmed written song.
For, this desi dance number with the characteristic Pritam touch could have done with a bindaas female voice since Kareena is shaking a leg along with Salman in the film as the song plays.
Pritam puts together a song for kids, which is suitably titled Chicken Song. It is sung by Mohit Chauhan, but doesn't really work.

The album concludes with the rather ordinary Zindagi, which is too sombre for a film like Bajrangi Bhaijaan. Written by Nilesh Mishra, this situational song is sung by Zubin Nautiyal. The song may have some meaning in the context of the film's narrative, but as a standalone number, it has little impact.
Bajrangi Bhaijaan is not quite an out-and-out Salman Khan soundtrack but songs like Selfie Le Le Re and Aaj Ki Party keep energy levels high.
Rediff Rating: