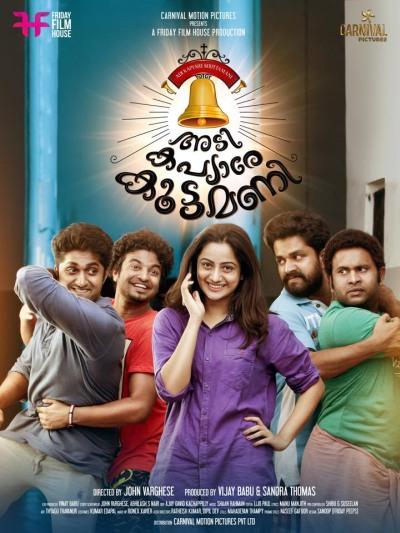 Not much imagination has gone into developing the plot of Adi Kapyare Koottamani, says Paresh C Palicha.
There was a phase in Malayalam cinema where a filmmaker could sell a film with second rung of actors and a 'comic thriller' tagline -- it was in the 1980s, when the avenues for entertainment were limited to cinema halls.
Trying such a thing these days requires a lot of guts as people don't throng theatres as they did in the past.
So we have to appreciate the people behind Adi Kapyare Koottamani, who have tried to make a film with young actors who are yet proved their saleability, and a wafer-thin plot.
Helmed by newcomer John Varghese, the film takes off when a woman named Adishta Lakshmi (Namita Pramod) secretly enters a college boys' hostel in the middle of the night. She does this with the help of her friend, Bhanuprasad (Dhyan Sreenivasan).
The reason for this act is not revealed until the end of the film, and adds to the suspense.
Bhanuprasad's friends Bruno (Aju Varghese), Remo (Neeraj Mahdahav) and Koshy (Vineeth Mohan) now have to struggle to get this girl out of the hostel by dodging everyone, including the hostel's warden, Father Alfred Kattuvilayi (Mukesh).
The situation is handled in a comic manner without dwelling into the repercussions. Even the warden of the hostel is depicted as a dimwitted moron.
Then as if to add complexity to the already convoluted plot, the girl's father is made into a gangster of Tamil descent.
There are a few genuinely funny moments which can be attributed to the ingenuity of some of the actors. The rest of them bring a taste of staleness in the mouth.
In the initial stages, when the plot unfolds, we feel that the pivot of this tale will be Mukesh's character. But as we progress, the onus of shouldering the funny part is on Aju Varghese and Neeraj Madhav.
Then, there is Bijukuttan who is shown as the assistant to the priest and adds to the comedy.
There is perkiness in the initial portions of this film but as we go forward, we realise that not much imagination has gone into developing this plot. We see elements of horror and suspense getting mixed up with humour.
There is an effort to make the ending open to keep the options of making a sequel if this film becomes a success. But poor attendance in theatres make us doubt whether that would become a possibility.
Rediff Rating: