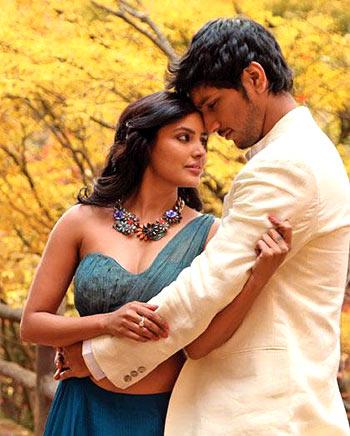 Despite a good storyline, young enthusiastic cast and an impressive technical crew, the film barely manages to hold your attention, writes S Saraswathi
Three years after her debut film, 3, Aishwarya Dhanush is back with her second directorial venture titled Vai Raja Vai. 
The trailer promised an exciting and stylish entertainer -- a luxurious cruise liner, packed casinos, and the glamorous world of gambling and fashionably dressed people.  Even the plot turned out to be quite interesting. The director has attempted to depict the terrible consequence of misusing your ESP -- extrasensory perception.
But despite the good storyline, the young enthusiastic cast, an impressive technical crew and cameos by Dhanush and actor/director SJ Surya, the film barely manages to hold your attention.   
Karthik (Gautham Karthik) is born with ESP.  Worried that he will be treated as a freak, his father (director Vasanth) extracts a promise from him that he will never use his powers. As he grows older, he tries to suppress his psychic powers, but does not succeed. Pandian (Vivek), his colleague and a professional gambler, notices his gift and decides to take advantage. 
He introduces him to a betting ring run by the ruthless Randhe (Daniel Balaji). Initially Karthik is uncertain, but his sister Gayathri's (Gayathri Raguram) wedding is fixed and the family is in desperate need of some quick money. He agrees to just one match. 
Randhe is simply stunned as over after over, Karthik's predictions come true. He even predicts an over with 37 runs accurately. At the end of the match Randhe loses one crore to Karthik.
Randhe is now convinced that he has found the goose that lays golden eggs; he is unwilling to let Karthik go. He wants to move to the next level and explore games with a higher stake. 
For Karthik, the lives of his family and friends are at stake. Will he ever be able to get out of this dangerous game alive? 
The second half moves at a more brisk pace. The glamorous and talented Taapsee Panu makes an appearance as Shreya, an accomplice of Randhe and his boss Kumar (Dhanush).  Though a brief role she completely overshadows Priya Anand, who plays Karthik's girlfriend. Vivek does evoke a few laughs with his sarcastic commentary, but he has a more serious role to play in the film. 
Sathish and Manobala also try to add some cheer, but all their lame jokes fall flat. The film totally lacks the thrilling moments that would have made it more exciting. The cinematography by Velraj is impressive and so is the BGM by Yuvan Shankar Raja. 
Gautham gives a good performance and so have the others in the cast.  But even at under two hours, the film appears rather slow and unexciting.  Dhanush's entry at the climax as Kokki Kumar, definitely makes the end more entertaining.  But he perhaps comes in a little too late to save the film. 
Aishwarya Dhanush's Vai Raja Vai is a let down.
Rediff Rating: