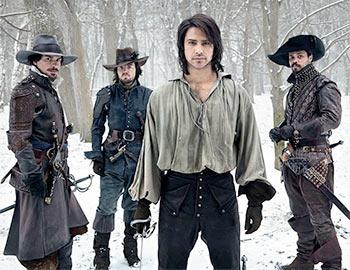 The Musketeers may not be original but it's engaging, says Paloma Sharma.

Alexander Dumas' 17th century novel The Three Musketeers has been adapted in several formats a lot of times over the years. 
With every name that is added to this list of adaptations, it becomes increasingly difficult to interpret the story in a different way.
Adrian Hodges' version for BBC One is entertaining even though it doesn't exactly bring anything new to the story.
Of the first three episodes of The Musketeers season one that premiered on Colours Infinity on August 4, the first two were taxing while the last one felt like a reward for having sat through the rest. 
Set in Paris, the show begins in the year 1630 with a father-son farmer duo riding to Paris when they are caught in the rain.
D'Artagnan (Luke Pasquallino) urges his father to take shelter at a local inn, where they are attacked and looted by men in masks and musketeer uniforms.
D'Artagnan's father is shot dead, causing him to swear revenge on the musketeers.
As the young farmhand lands up at the nearest musketeer garrison, he finds that the murderous musketeers are being sought by their own kind as well.
The somewhat predictable plot carries on with D'Artagnan making unlikely friends on his quest to avenge his fathers' death.
The Musketeers features some seriously solid production design and dark, edgy cinematography. It's a shame that the storyline doesn't quite match up to it.
Although the character development is well-paced and manage to strike a chord, their arcs are easy to anticipate.
Despite being the designated protagonist of the series, it isn't Pasquallino who captures the audience's attention, it is Cabrera's Aramis and Howard Charles' Porthos, whose strong screen presence and easy chemistry bolster the narrative with humour when the story begins to slack.
Sword fights are a-plenty, the alibis and motivations of characters become overused and scarcely original.
The Musketeers is basically a gripping masala entertainer.
Intriguing but not exactly original, The Musketeers is a good way to pass time.
Rediff Rating: 



The Musketeers airs on Colors Infinity ever Tuesday at 9 pm.