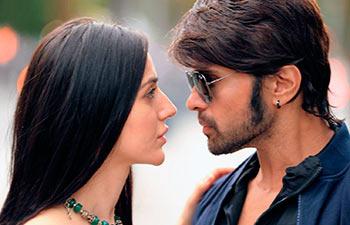 Himesh Reshammiya proves he still has his magic, says Aelina Kapoor.
Composer Himesh Reshammiya returns with a sequel to his 2007 film Aap Ka Surroor, called Teraa Surroor.
Farah Karimi stars opposite the musician while Kabir Bedi and Naseeruddin Shah play pivotal roles.
With Himesh taking over the music, one can expect some crowd-pleasing melodies. Sameer Anjjan, Shabbir Ahmed and Anand Raj Anand provide the lyrics.
Darshan Raval sings the first song, Main Woh Chaand. Himesh's composition has a saccharine sweet quality to it. Sameer's lyrics are romantic and fit well with the mood of the song. Himesh sure gets it right in this song.

The Himesh-Darshan team return with Bekhudi, with singer Aditi Singh Sharma joining them, and create yet another foot-tapping melody. Aditi steals a march over her co-singer with her mystic vocals which suit the mood of the song better. The arrangement is compelling, and Sameer lives up to the expectations with his lyrics.
My favourite track in this album is the third song, Wafa Ne Bewafai. Sung by Arijit Singh, Himesh hits bulls-eye with this track. Arijit is excellent as usual, as is Suzanne D'Mello, who joins him. Neeti Mohan joins the duo too, and marks her presence with this melancholic number.
Teri Yaad appears in two versions in the soundtrack but it's the least favourite. While the first one has Baadshah joining Himesh behind the mike with his rap, the second version has just Himesh. The rap doesn't quite fit in with the sad mood of the song, and that's why the second version has a better impact. 
Himesh tries out soft rock with excellent results in Adhuri Zindagi, sung passionately by Rituraj Mohanty. Sameer captures the pain and longing brilliantly with his verses while Himesh takes care of the rest.
Ishq Samundar (Reloaded) is the final track of the album and yes, it's the super-hit track from Kaante which has been recreated for this album. Himesh sings with Kanika Kapoor. Anand Raj Anand's Kaante music works really well even today. 
With Teraa Surroor, Himesh Reshammiya proves that he still has his magic. This soundtrack is set to become yet another of his chartbusters.
Rediff Rating: