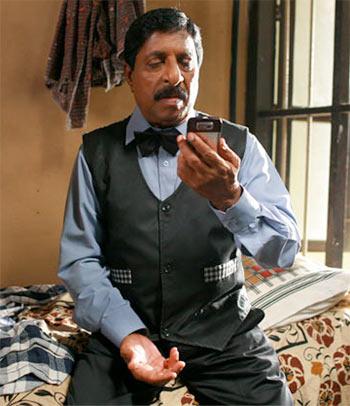 Swargathekkaal Sundaram is one more addition to the heap of films that leave hardly anything to be remembered, says Paresh C Palicha.
If you think that the so called 'new- gen' themes have trickled out of Malayalam cinema, the new film Swargathekkaal Sundaram will prove you wrong.
Directed by newcomer Manoj Aravindakshan, it focuses on the happenings in a liquor bar, telling the stories of its owners, its employees and some of its patrons.
One heartening thing about the film is that the débutant director has made the film with a few ageing character actors.
The story credited to Rajesh Raghavan, revolves around the Panchami Bar owned by Lopez (Joy Mathew), known for his crude sense of humour.
His father had started an arrack shop in 1956 when the state of Kerala was formed. It grew to be a premium bar under his son's supervision.
The other important character in this enterprise is Satheesan (Sreenivasan), who is employed at the bar and runs around to gather funds for a life saving surgery of his son in a private multi specialty hospital. We come to know from his back-story that he has seen good times in the past.
Then there is Maniyan (Lal), a lottery ticket seller who also brokers land deals to make a living.
He and Satheesan have been friends for long and he offers a lottery ticket to his struggling friend the first thing in the morning. He then guzzles three pegs of liquor standing at the counter of the bar.
Then there are numerous other characters supporting these three, like Touchings (Mythili), who got this peculiar pet name because she supplies small eats and pickles to various bars in the town.
Idduki Jaffar appears as a waiter in the bar and supports his boss in spreading comic relief. He also has the responsibility of filling in the blanks in the narrative.
Among the regular patrons of the bar is Sreejith Ravi who is a rich Gulf returnee. He asks only for the costly brand but settles for whatever is available in the bar, in the end.
Then there is a young fellow who is only interested in posting critical messages on the social media on anything and everything in the world.
Most of the characters are over the top except the muted Sreenivasan, who has to show pathos at being the father of a critically ill child.
Joy Mathew gives us a few genuine moments to laugh out loud, as he transforms into being Lopez with relish.
Mythili presents herself as a woman of substance in a territory where any man can turn into a beast.
The writing of this film leaves much to be desired as some of the scenes remind us of last year's films like God's Own Country and Lal Bahadur Shastri.
That makes Swargathekkaal Sundaram one more addition to the heap of films that leave hardly anything to be remembered.
Rediff Rating: