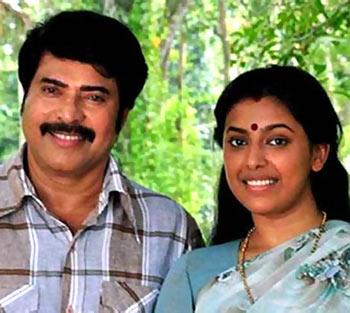 Pathemaari brings Mammootty back to his brilliant form, writes Paresh C Palicha.
We have seen many Malayalam movies, where the family's eldest son/daughter shoulders the responsibilities and sacrifices his/her own life.
We see the story play out again in Salim Ahamed's Pathemaari, where Mammootty plays the eldest son of a poor family who goes to the Gulf in the early 1980s in an unauthorised way.
But what works in the film's favour is its treatment and Mammootty's performance.
The director tries to infuse new life to the dated theme by employing flashbacks and flash forwards, bringing in a larger social perspective rather than restricting it to one person.
A young Pallikkal Narayanan takes a life-threatening boat ride to the Gulf to bring his family out of penury. The boat ride gives no guarantee of reaching the destination or safe landing once it reaches the Gulf.
Later, we see the adult Narayanan (Mammootty), waiting in the line to use a pay phone to  call home and speak to his wife and mother. The conversation is very touching.
People like him maintain a frugal lifestyle, saving almost everything for their families back home.
When they go home on holiday, they pretend that they are having a royal life and bring exotic gifts.
The situations shown here may seem like clichés, but as the story is stripped off melodrama, and silence is used in adequate proportions, the film rises above the mundane. For instance, Narayanan wishes to return to his hometown and even leaves his job, claiming his visa has expired. But circumstances at home make him go back after a short while.
This film brings Mammootty back to his form, showing off his histrionic prowess. He is ably supported by ensemble cast, consisting of Sreenivasan, Joy Mathew and Jewel Mary (who plays his wife).
Pathemaari is totally worth a watch.
Rediff Rating: