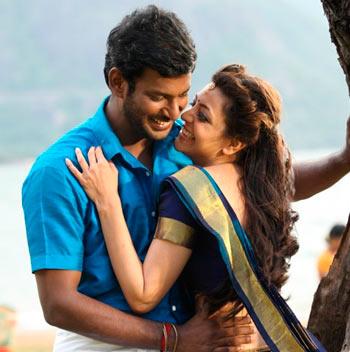 Paayum Puli lacks the subtlety, intrigue and clarity that we have come to associate with director Suseenthiran, says S Saraswathi.
Paayum Puli is director Suseenthiran and actor Vishal's second outing together. 

Unfortunately, the film is not as interesting as their previous venture Pandianadu, which was a huge success. 

The dubbed Telugu version of the film, titled Jayasurya, also releases today.
Kajal Aggarwal plays the female lead, while Samuthirakani, Soori and Aishwarya Dutta essay significant roles. 
Cop stories are always a big attraction for the Tamil audience. 

The larger-than-life hero becomes even more powerful with the law behind him. 

Vishal, as an undercover cop Jayaseelan, seems to have the time of his life targetting all the rowdies he can lay his hands on. 

He is on a mission to find the mastermind behind a series of murders. 

All the rich businessmen in the city of Trichy and Madurai are being targeted and Jayaseelan, the Assistant Commissioner of Police, Madurai, is in charge of the investigation. 
After killing all the bad guys in Trichy, Jayaseelan turns his attention to Madurai, his hometown, where we are introduced to his family. 

Loving parents, an elder brother, Selvam (Samuthirakani), who is married with children, and a younger sister. 
The first half ends with a twist in the tale. 

Selvam is not who he appears to be, an ordinary flower exporter content to look after his family. He has deep-rooted political ambitions that blind him to every emotion.
To what extent he will go to fulfill his wishes forms the rest of the story.
Kajal Aggarwal plays the poor damsel in distress, who is afraid to even cross the road by herself. 

There is an entire song dedicated to this pathetic notion. 

She conveniently disappears in the second half, having nothing much to do. 
While in the first half Vishal is this aggressive, clever undercover cop, with highly exaggerated action sequences, the second half is a complete contradiction. 

He seems like a total imbecile, clueless to what is happening around him.  Samuthirakani easily takes over with his chameleon-like portrayal of the character.  
Soori is Murugesan, a police constable roped in to provide some laughs, but he barely succeeds with his lame jokes ridiculing his wife.
The film lacks the subtlety, intrigue and clarity that we have come to associate with director Suseenthiran. 

Except for Samuthirakani, the other characters have been largely ignored. 

Cinematographer Velraj does his job for the director, but music by D Imman leaves a lot to be desired. Mediocre songs disrupt the narration and the lack of pace is another downside to the film.
The film gets a little exciting in the last 20 minutes, with family sentiments, pride and honor coming into play, but it is perhaps too late. 

At the heart of the story is the director's attempt to show that the dark and dangerous world of politics can set a man even against his family, but sadly, he is not very convincing.
Rediff Rating: