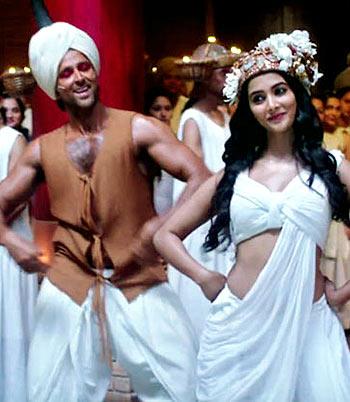 Take a bow, A R Rahman, applauds Aelina Kapoor.
Mohenjo Daro could well be A R Rahman's most difficult assignment when compared to his previous association with its director Ashutosh Gowariker (Lagaan, Swades, Jodhaa Akbar).
The collaboration with the seniormost lyricist around, Javed Akhtar, continues.
When the core subject of a big movie is larger than life, the theme song needs to be truly grand. That's what the elaborate chorus, put together by Rahman, achieves at the very outset in the title track Mohenjo Mohenjo.
Other than the chorus, the team of singers are led by Arijit Singh and include Rahman himself, Bela Shende and Sanah Moidutty.
Rahman enjoys his time behind the mike when he pairs up with Sanah Moidutty (who gets a good break in this album) for Sindhu Ma.
The track starts as a homage to the sindhu nadi (the Indus river) and soon merges with the romantic number Tu Hai. It has a good melody. 
What catches the ear is an amalgamation of various instruments to create a unique sound.
It is a known fact that the composer tries to bring in fresh voices for his films, even if they are big budget multi-crore affairs. So he doesn't shy away from experimenting with Shashwat Singh and Shashaa Tirupati, relatively new singers in the Bollywood arena. And they don't disappoint as Sarsariya. The song is beautiful.
Later, an instrumental version also appears as Lakh Lakh Thora.
The last song of the album is the best. Rahman and Sanah Moidutty pair up for the complete version of Tu Hai (heard earlier in Sindhu Ma). A wonderfully composed track, it instantly catches your attention. No wonder, there's an instrumental version of it called The Shimmer Of Sindhu.
Choir conductor Arjun Chandy gets a couple of instrumental tracks -- Whispers Of The Mind and Whispers Of The Heart. It's difficult to differentiate between the two but they fit in with the background score.
The musical team of Mohenjo Daro should be applauded for venturing into dangerous territory since the sound of this period is unknown. They have experimented with the score and set it firmly in the Bollywood milieu. It may not set the charts ablaze, but it's definitely worth listening to. 
Rediff Rating: