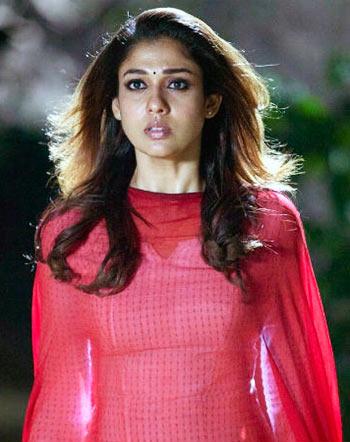 Director Ashwin Saravanan's Maya is a gripping supernatural thriller. S Saraswathi recommends. 
Basking in the success of Thani Oruvan, the gorgeous Nayanthara comes up with yet another brilliant performance in debutant director Ashwin Saravanan's Maya.
Nedunchalai fame Aari co-stars in the film, along with Amzath Khan, Lakshmi Priyaa Chandramouli, Mime Gopi and Robo Shankar.
The suspense film has a lot of chaotic twists that leave you hooked from the very first scene. 
The director narrates two parallel tales with different characters.
While one is shot in black and white against an eerie backdrop, the other deals with your everyday life scenario.
Apsara (Nayanthara), a mother of a one-year-old baby girl, is a struggling actor and is separated from her husband. She survives on ad films and the generosity of her good friend Swathi (Lakshmi Priyaa), an assistant film director.  
The other tale introduces us to a sketching artist, Vasanth (Aari), who works for a weekly magazine, illustrating stories. He is working on a horror series that is inspired from a true story that occurred at a neighboring forest called Mayavanam. 
Even as he gives life to the story with his illustrations, he gets sucked into the mystery surrounding a mental asylum, where its patients were brutally tortured and killed for medical experiments.
Maya Mathews is one such patient, who is believed to be haunting the forest looking for her long-lost daughter.
Vasanth senses a strange presence and a curious hospital smell around him, and soon people begin to die. The writer of the series and one of his close friends are killed under mysterious circumstances. 
Vasanth decides to go to the forest to investigate. 
Meanwhile, Apsara is being hounded by creditors, and is in desperate need of money.
The film deftly alternates between the two stories, keeping you intrigued. As the story unfolds, the two tales merge to explain the complex connection between the characters. 
The director's gripping narration technique keeps you guessing until the very end. There are some truly hair-raising moments that will haunt your dreams for several days. 
Though dressed in simple salwar kameezes, Nayanthara still earned loud wolf whistles in the theatre. The subtlety with which she portrays the helplessness of her life in the first half and the terrifying moments as she tries to flee the mysterious forest is truly commendable. 
Aari and the others in the cast are equally impressive. 
The background score by Ron Yohan and camera angles by cinematographer Sathyan Sooryan also deserve a special mention. 
The well-written characters, perfectly chosen cast, intense and chaotic screenplay coupled with some good music and exceptional cinematography make debutant director Ashwin Saravanan's Maya worth a watch.
Rediff Rating: