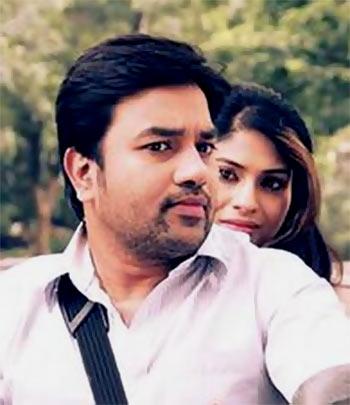 The film keeps you engrossed for most part, says S Saraswathi.
Cinematographer-turned-director Laxman Kumar's Masala Padam (Masala Film) has been made with the sole intent of condemning film critics.  
The film tells us their version of the story, their explanation as to why they follow a certain template and why it sets the cash registers ringing at the box office each time. 
The movie opens with a hardcore film blogger sitting in a theatre amongst screaming fans, wondering what the fuss is all about.
The camera moves in slow motion to capture in glorious detail the shoes of the hero as he stylishly walks a few steps, sending the crowd into ruptures.
Back home, he blogs about the senselessness of it all and soon the internet is buzzing with similar opinions and jokes, tearing the film apart.   
The very next day, he meets with a small accident and the producer is blamed.
A highly enterprising television channel invites the producer and the blogger and his friends for an open debate on the issue. The debate ends with the producer challenging bloggers to come out with a script that is commercially viable.
After a lot of research, the bloggers come to the conclusion that for a film to work, it must contain the four basic elements -- action, comedy, romance and sentiment. 
At this time, they come across three individuals -- Mani (Shiva), Krish (Gaurav) and Amudhan (Bobby Simha) -- whose backstory they believe will make an exciting film.
Mani comes from a middle class background with god-fearing parents and works in a multi-level marketing company.
Krish is a playboy, who loves to party.
Amudhan is a criminal, who is being hunted by the police.
At first, the bloggers are content with following them around, but later decide to manipulate their lives to add a twist to the tale.
They seek help from Dia (Lakshmi Devy), a pretty photojournalist to infiltrate their lives. 
Soon they realise that truth can be stranger than fiction and everything they claim irrational in films is just a slice of life, with plenty of masala added to spice it up. 
The film may have an interesting concept, but does not make a very convincing tale. 
The bloggers give up too easily, and film ends on a biased note. 
The producer claims to cater to the unfulfilled dreams of the common man that he transfers to the invincible hero on screen, who is able achieve everything he desires in life.
The film keeps you engrossed for most part and the director does make his point, but perhaps a stronger defense would have made the film more meaningful.
Rediff Rating: