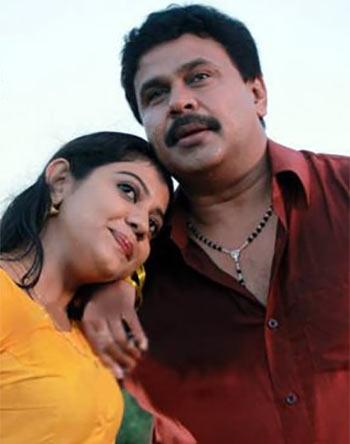 Drishyam director Jeethu Joseph gives Dileep one of the best characters of his career, says Paresh C Palicha.
Drishyam director Jeethu Joseph's new venture Life Of Josutty carried very high expectations.
Starring Dileep, it is the coming-of-age story of a young man which is told with a sensitivity that we least expect from a Dileep film.
Josutty (Dileep) is a typical Malayali hero who is naive and with a heart of gold. His family is debt ridden. He has a younger sister who is yet to be married and another sister's dowry yet to be paid. As a child, he wished to be a priest but he falls for the charms of Jessy, his neighbour.
As luck would have it, this relationship is doomed as Jessy's father will not accept an uneducated pauper son-in-law. So Jessy gets married to the man of her father's choice.
On the other hand, Josutty readies himself to marry a divorced nurse who is working in New Zealand and promises to take his family out of financial trouble.
The rest of the story was expected to be a humorous take on how an uneducated man takes on the role of a house husband in an alien land. But what the director gives us is a shocking surprise.
We not only see the ego battering condition of a house husband who has to survive in a foreign land, but also a layered man-woman relationship without being judgmental.
Jayalal Menon's story does try to hammer down the message that a lot of conflict in life can be avoided if we step into another person's shoes. 
We even feel that there is an attempt to appease the Star's fan clubs by inserting a line here and there in his voice to induce a few claps from them.
Otherwise, Dileep's performance is subdued and realistic. In the beginning, he does give a feeling that it is one of his typical movies with actors like Noby and Saju Navodaya on his side. But they depart once he is in New Zealand and Chembil Asokan takes their place along with Aqsa Bhatt (one of the three women in his life).
Rachana Narayanakutty as Jessy appears and disappears. Her appearance is to provide comic relief as she is pregnant every time she makes an entry.
Jyothi Krishna as Rose, Jossutty's wife impresses depicting a complicated character.
Hareesh Perady as Jossutty's father gives a moving performance as the character who is idolised by his son.
On the whole, with Life of Josutty, director Jeethu Joseph carries on his good form that he showed in Drishyam giving Dileep one of the best characters of his career.
Rediff Rating: