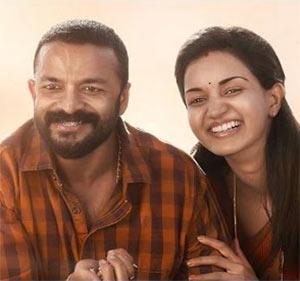 Kumbasaaram is an over the top which has nothing new to offer, says Paresh C Palicha.
Malayalam actor Jayasurya who entered films after doing mimicry on stage has been trying to get validation as an intense actor for the last couple of years.
He tried playing varied characters and even adopted different looks. But, box office success and critical acclaim continue to elude him.
In his new film Kumbasaaram, directed by Aneesh Anwar, he plays a brooding auto rickshaw driver with a critically ill child, who is unable to pay for the child's costly surgery.
The director who is also credited with the story does not stop at this. His hero Alby (Jayasurya) has married Meera, a Hindu girl (Honey Rose) and she was ousted from her family for marrying a Christian.
They had lived a happy life in spite of the financial difficulties. Then gloom sets in as their only son Jerry (Master Akash) falls ill with cancer. Meera is also pregnant with their second child.
The narrative is in the form of a diary written by the little boy Jerry, where he poses questions to God regarding various issues bothering him to give an emotional tug for the viewers.
Then, we have Alby telling his own story to the camera. The intention of the director here seems to relentlessly depict gloom and doom.
We see Jerry's condition deteriorating as his parents face closed doors wherever they go to get help.
As a last resort Meera puts an ad in a newspaper seeking help. In response, her husband receives a call with the offer to help but on the condition that he should kill a person to get the required amount.
Our hero's dilemma continues till the end of the first half. Then, more complications crop up. It takes nearly three hours to tidy things up. The tempo is deliberately slow.
There are numerous other characters like Meera's cousin (Tini Tom), who was supposed to marry her before she eloped with Alby. Now, knowing her situation he puts forward an indecent proposal.
There is Paul Varghese (Shanavas) who offers Alby the money if he is ready to kill a person as per his direction. Then there are Jerry's schoolmates who deserve a special mention.
Kumbasaaram is an over the top film with an overdose of drama.
Rediff Rating: