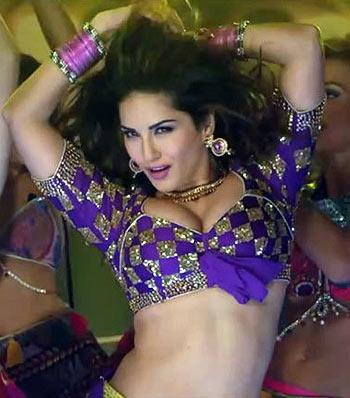 Kuch Kuch Locha Hai's music manages to stay afloat on the strength of its initial numbers, says Aelina Kapoor.
With half a dozen releases scheduled, 2015 is going to be the year of Sunny Leone.
Ek Paheli Leela started the avalanche and, barely weeks later, the 'naughty comedy' Kuch Kuch Locha Hai will release.
A number of composers and lyricists have put together the film's half-a-dozen songs.
It is a cracker start for Sunny's fans as she gyrates to the tune of Paani wala dance.
As the name suggests, this one is all about getting wet and dirty. But the music team doesn't merely rely on Sunny's antics to help the song pull through.
Composers-lyricists-singers Ikka, Arko and Intense give the song a roller-coaster flavour as Shraddha Pandit goes all out to keep the pace strong and spirits high.
If one dance number in the water wasn't enough, it is time to get drunk with Daaru peeke dance.
Sunny dances like never before in this number which presents her as the quintessential Bollywood heroine. She gets her latkas and jhatkas perfectly right in this Neha Kakkar offering. And, with songs like Aao Raja and Paani waala dance in her kitty, Neha makes sure her voice is heard across the nation. Composer duo Amjad-Nadeem team up with lyricist Sameer, and Aishwarya Nigam joins the party to ensure that you tap your feet to this song.
Fans of R D Burman and Javed Akhtar's Jaane do naa from the Amitabh Bachchan-starrer Saagar needn't panic on seeing composer-lyricist Arko coming up with his own version.
He actually does rather well with his contemporary version that keeps the sur of the original intact.
Singers Ankit Tiwari and Shraddha Pandit know their task is to recreate the chartbuster track from the 1980s and they make sure that the song sounds exciting for the current generation. A good version!
A couple of back-to-back romantic numbers make their appearance. Both have been composed by Amjad-Nadeem, with vocals by Jubin Nautiyal.
Written by Amjad-Nadeem and Sanjeev Chaturvedi respectively, Ishq da maara and Na jaane kya hai tumse waasta (which also features Asees Kaur) have a similar melody and are easy on the ear. They are unlikely to be chartbusters but fit well into the overall soundtrack.
The Dharam-Sandeep composed title song Kuch kuch locha hain isn't likely to linger in one's memory. The song, written by Himank Kalal and Mani Soni, aims at being peppy, funny and energetic, with a horde of singers (Divya Kumar, Shraddha Pandit, Sandman), but is just about decent.
Ditto for the Ali Quli Mirza sung and composed Yeh ishq, which is written by Amjad-Nadeem and comes across as a mere filler. It makes an attempt at being fast paced and energetic but the end result is just passable.
Kuch Kuch Locha Hai tapers down at the end but, on the strength of its first few numbers, it manages to stay afloat.
Sunny Leone fans will love seeing the lady in action in Paani wala dance, Daaru peeke dance and Paas aao na.
Rediff Rating: