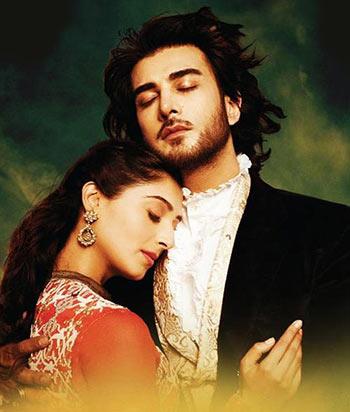 The Jaanisaar soundtrack is worth a listen but it may not be everyone's cup of tea, writes Aelina Kapoor.
The Jaanisaar soundtrack includes as many as 10 songs, all belonging to the period era. The songs have been composed by Ustad Shafqat Ali Khan.
The album starts with Hamein Bhi Pyar Kar Le, sung by Shreya Ghoshal, on lyrics by Nawab Wajid Ali Shah. It takes many listenings to get accustomed to the classical milieu.
The romantic flavour of the album is carried forward with Champayi Rang Yaar Aajaye. This time, Shreya Ghoshal is joined by Ustad Shafqat Ali Khan. Though there isn't much here when it comes to the recall value, it's fine till it lasts.
Ustad Shafqat Ali Khan goes solo for a traditional track Sufiye Ba Safa Manam, which is a good offering for Sufi lovers. The song plays for six and a half minutes, and it's well worth it.
In fact, the longer nine-minute version is even better, and features Abida Parveen. It makes you revisit the track repeatedly.
Another singer, whose really good in the album is Malini Awasthi. Her first song is Teri Katili Nigahon Ne Mara, a beautiful mujra song.
Later, she does a romantic number called Sawan. While it's good, it may not be everyone's cup of tea.
Sukhwinder Singh's Aye Zulfe - E -Pareshaan has lyrics by Rahi Masoom Reza. This one has a sense of passion to it.
His other number Har Taraf Andhera Hai is full of pathos.
Masnad Luti, an Urdu heavy number sung by Shreya Ghoshal, is quite short under 100 seconds. But her next song Achchi Surat Pe compensates for it with a running length of close to seven minutes. 
This soundtrack is strictly for lovers of classical music.
Rediff Rating: