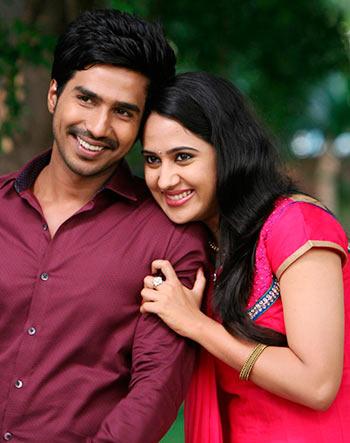 Debutant director Ravi Kumar deserves all the credit for Indru Netru Naalai, writes S Saraswathi.
Science fiction and comedy sounds like an unusual combination, but it seems to have worked perfectly for debutant director Ravi Kumar, who made Indru Netru Naalai.
Ravi Kumar had worked as an assistant to Nalan Kumarasamy during the making of Soodhu Kavvum. 
The film has you hooked from the opening scene and keeps you entertained until the end. 
Indru Netru Naalai (Today, Yesterday, Tomorrow) revolves around the adventures of two friends, Elango (Vishnu) and Pulivetti Arumugam (Karunakaran), who discover a time-machine.
The film opens in 2065, in Chennai. Arya makes a cameo appearance as a scientist who has succeeded in inventing a time machine. 
For a test run, he programs the machine to go back 50 years to a particular date in 2015 and return with some pictures for proof. 
To his great disappointment, the machine fails to return.
The story then moves back to 2015, exactly two days before the fateful machine is to land.
Elango is a well-educated, middle class youngster who finds being an employee demeaning. He comes up with brilliant schemes that he wants the bank to finance, but they are unimpressed. 
His girlfriend Anu (Mia George) lies to her father Rajaratnam (Jayaprakash) that Elango is a hotshot stock market consultant. 
Rajaratnam, a powerful businessman, soon discovers the truth and insults Elango.
Elango and Puli get drunk and meet with an accident. They are stranded with a stranger on a lonely roadside, when they are greeted by a strange sight. The stranger is an electronics and instruments engineer, and thus begins their incredible journey into the yesterdays and tomorrows of their life. 
At no time does the concept overwhelm or seem too fantastical. The story is beautifully interwoven with the characters, their situation and the discreetly present time-machine. 
Music by Hiphop Tamizha, especially the background score, is apt, and the song Indru Netru Naalai is quite addictive. 
The deliberately paced narrative ensures you identify with the predicament of the characters. 
Every character is well etched and the cast perfectly chosen. Vishnu seems to be on a roll with two hits last year, Mundasupatti and Jeeva. He is totally at ease with the character, giving a natural and effortless performance with no excess drama.
Karunakarn, with his wide-eyed, blank expression, and the most unpredictable and weird dialogues, is truly a find. 
Mia George, Jayaprakash, Sai Ravi, who plays the antagonist, and T M Karthik, the geeky scientist, are all equally impressive.
But it is undoubtedly the director, who deserves all the credit. 
His skilful writing and deft direction, coupled with some fitting music and great all round performances, make his debut venture worth watching.
Rediff Rating: