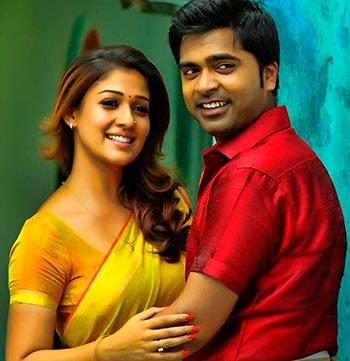 Simbu in his typical effortless style does try to be honest with his witty and sarcastic comebacks. But it is Soori who steals the show with his spontaneity, says S Saraswathi.
Simbu and Nayanthara coming together for a film after nearly a decade raised many eyebrows. The duo was last seen together in the 2006 thriller Vallavan.
Their latest offering, Idha Namma Aalu, is a fun romantic comedy directed by National award-winning filmmaker Pandiraj.
The film, which was mired in controversies, finally released this weekend after endless delays.
Idha Namma Aalu marks Simbu's brother Kuralarasan's debut as music composer, while the producer is their father, T Rajendar.
Also playing an important role is the lovely Andrea Jeremiah, supported by comedy actors Soori and Jayaprakash.
Simbu's numerous real-life love affairs, including his past romantic relationship with Nayanthara, is common knowledge and this film is an attempt to explain his side of the story.
Idha Namma Aalu opens with a humor-packed narrative describing the life of an IT professional played by the comedy actor, Arjunan, which sets the right mood for the light-hearted entertainer.
We are introduced to Siva (Simbu), a team manager and his two-wheeler driver-cum-friend, Vasu (Soori).
Siva is forced by his father (Jayaprakash) into a bride-seeing ceremony. Though reluctant at first, he becomes besotted by Myla (Nayanthara), the bride-to-be, at first sight and immediately agrees to the marriage.
But Myla is not so willing and questions his love affair with Priya (Andrea Jeremiah), who incidentally turns out to be her friend. Simbu is honest about his relationship and reveals the reason for their subsequent break up, pacifying Myla. The duo get engaged.
With three months to go for the wedding, a long courtship begins with never-ending lovey dovey phone calls and promises of eternal love.
Things, however, are far from perfect with Vasu hiring a detective to dig up Myla's past, while Myla makes her own subtle attempts to test Siva's true feelings.
Do they or do they not trust each other enough to eventually get married forms the rest of the story.
Director Pandiraj, who is known for his engaging screenplay and sharp dialogues, is totally in his element. The hilarious Soori seems to take great pleasure in putting Simbu in a spot with his many double meaning dialogues, hinting at all his failed love affairs.
Even the gorgeous Nayanthara is not spared.
Simbu, in his typical effortless style, does try to be honest with his witty and sarcastic comebacks. But it is Soori who steals the show with his spontaneity.
Except for a couple of songs, the music is ordinary.
The narrative moves at a deliberate pace, getting tedious especially in the second half, with Simbu and Nayanthara endlessly crooning sweet nothings to each other over the phone.
Nonetheless, the charming performances by the lead actors make director Pandiraj's Idha Namma Aalu worth a watch.