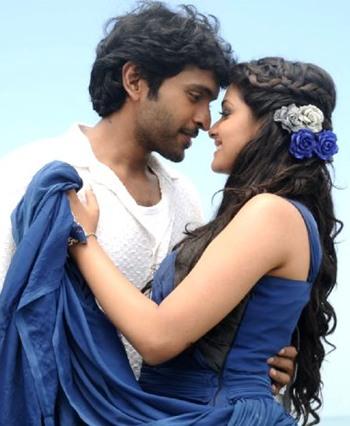 Tamil film Idhu Enna Maayam is saved by its light, situational humour, says S Saraswathi.

Love, misunderstanding, pride, heartbreak, separation and eventual reunion form the basic formula for most romantic films.

Except for the background, there is little that has changed in this age-old template.

After the critically acclaimed Saivam, director Vijay (of Madrasapattinam fame) attempts a full-fledged romantic comedy titled Idhu Enna Maayam (INM).

The film features Vikram Prabhu and Malayalam actress Keerthi Suresh in the lead roles.

INM has music by GV Prakash and is produced by Raadhika Sarathkumar and Listin Stephen under the banner of Magic Frames.

Arun (Vikram Prabhu) and his friends comprising actors Balaji Venugopal, RJ Balaji and others, have a deep passion for drama.

They stage plays that no one comes to watch.

Their parents, who support them financially, are extremely critical of their career choice.

Fed up with their constant jibes, this young group starts their own company called Unnal Mudiyum Thambi.

Their mission is to bring together lovers by creating a romantically conducive environment.

Everything from a cozy dinner by the beach to a meeting at the park or a café, with romantic rain, music and flowers are arranged discreetly.

Soon the venture is a huge success.

Things go well until, Santhosh (Navdeep), a real-estate tycoon, comes to them for help.

He wants them to make Maya, a beautiful singer, fall in love with him.

The mere mention of the name Maya takes Arun back to his college days and the memory of his first love -- also a girl named Maya.

It comes as no surprise that it's the same Maya the men pine for.

A flashback tells us more about their love story and what tears them apart.

Arun is now in a dilemma. Does he still have feelings for Maya or will he attempt to bring Santhosh and Maya together.

Despite his good performance, actor Vikram Prabhu looks extremely awkward and out of place as a college student.

He is not only the captain of the college cricket team, but also leads the hockey team to victory.

Keerthi, however, is perfectly cast.

She looks lovely, but the romance between them is a whole lot of cinematic confusion that is lame and predictable. The reason for their break up seems too flimsy and unjustified.

It is only the humor in the film that keeps you entertained.

Light, funny and situational, the youngsters' efforts to bring together lovers using clichéd techniques that are often seen in films bring a smile to your face. RJ Balaji and Charle are hilarious.

Music by GV is pleasant and the songs have been shot well.

Cinematographer Nirav Shah brings out the beauty of romance adding a fantastical touch that creates a fairy-tale-like ambience to the narration.

Director Vijay's Idhu Enna Maayam may lack the passion and originality of his previous films, but does make a decent entertainer.
Rediff Rating: