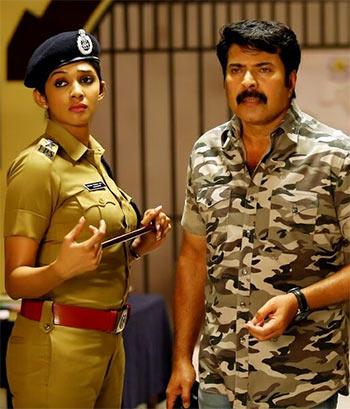 Fireman's aim seems to be glorifying the image of superstar Mammootty, writes Paresh C Palicha.
Director Deepu Karunakaran takes us into the lives of fire fighters in his new film Fireman.

He weaves an interesting story of these heroes and tries to show the philosophy and the work ethic that drives them. Unfortunately, he seems overwhelmed by the effort to do justice to the presence of megastar Mammootty.
The film shows how precarious is the life of these men. A fire fighter is pressed into duty just minutes after he has formally retired and gets killed. The job is shown as being unglamorous. When the hero asks tiny tots in a school how many of them wish to be fire fighters when they grow up, not even one hand goes up.
When a tanker full of LPG topples in the centre of the city, the first unit of firemen and many members of the public die in the blast. Vijay (Mammootty) has to take up rescue operations single-handed before more back-up arrives.
Such an incident had occurred on a highway in Kerala in the not very distant past, so technical details of stopping the leak from the tanker and the steps taken to avoid loss of life is interesting.
But as it progresses, Fireman turns into a typical superstar film where the hero Vijay, as the leader of the fire department, takes on the police department to avoid further loss of life. He wants to evacuate a prison, but the police authorities are reluctant to do so.
Bombastic dialogues do nothing to make the film more endearing. Things get worse in the second half when Vijay tries to unravel the terror angle behind the accident.
Hareesh Peradi plays a minister who utters lines like "he not only has physical strength to accomplish arduous tasks but also the brains to win a war."
Unni Mukundan plays Mammootty's junior Shajahan, who has a frivolous attitude towards work and life in general. It is his death that brings out the superhero in Vijay.
On the technical front, the graphically generated fire and the devastation afterwards leave a lot to be desired.
Fireman's aim seems to be glorifying the image of a superstar.
Rediff Rating: