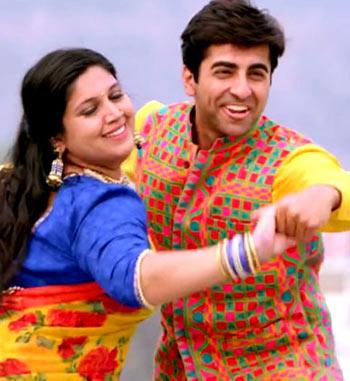 The music of Dum Laga Ke Haisha is quite a surprise, writes Joginder Tuteja.
Dum Laga Ke Haisha is about a married couple with the guy being uncomfortable speaking English and the girl being on the heavier side.
Anu Malik, who is scoring for a major production house (Yash Raj Films) after some time, does not disappoint. The lyrics are by Varun Grover.
The opening number Moh Moh Ke Dhaage sounds very unlike a Yash Raj film. It is a beautiful melody that takes one back to the 1970s.
Papon renders the song in a style pretty much his own. 
Monali Thakur sings the same song later in the album.

The energetic title song, Dum Laga Ke Haisha with Kailash Kher in the lead is quintessential Yash Raj. It is catchy and should look well in the film. It's a very desi number that calls for celebration and fun.
Jyoti Nooran and Sultana Nooran accompany Kailash Kher in a powerful rendition.
Kumar Sanu's voice starts the beautiful Tu. It reminds one of Zindagi Har Kadam Pyaar Ki Dastaan from Vijay, but Anu Malik takes over and comes up with the kind of tune that made Raah Mein Unse Mulaaqat Ho Gayi (from Vijaypath) a chartbuster.
The desi sound is back with Malini Awasthi and Rahul Ram coming together for Sunder Susheel, the flagship number.
The sound is intentionally Bhojpuri in keeping with the situation in the film. Varun Grover brings a conversational style to the song and is well supported by Anu Malik and the singers. A very enjoyable number.
Kumar Sanu and Sadhana Sargam sing another number that pays homage to the 1990s. The sound of Anu Malik's Paas Woh Aane Lage Zara Zara (Main Khiladi Tu Anari) is picked up here in Dard Karaara.
Fans of Kumar Sanu, Alka Yagnik, Udit Narayan and Sadhna Sargam will love this one. Varun Grover's lyrics remind one of the work that Sameer did in the era of Akshay Kumar and Govinda.
The music of Dum Laga Ke Haisha is the surprise of the season. It makes one nostalgic for a bygone era.

Rediff Rating: