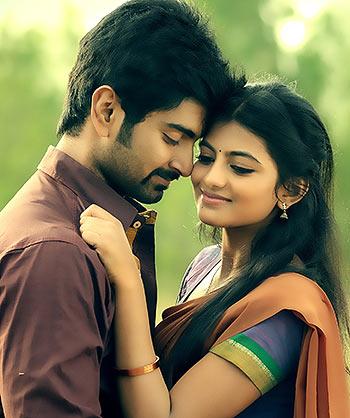 Director Sarkunam's Chandi Veeran is worth a watch, says S Saraswathi.
National award-winning director Sarkunam of Vaagai Sooda Vaa fame has teamed up with Atharvaa and Anandhi for an action drama called Chandi Veeran.
The film is produced by director Bala's B Studios and has music by S N Arunagiri, who had earlier composed for the hit film, Goli Soda.
The film recognises the significance of clean drinking water for all. The director attempts to convey that irrespective of boundaries and ownership, no one can claim the right to a water source.
The film opens with a brutal scene. A very young Paari (Atharvaa) watches helplessly as his father is mercilessly killed during a fight between two neighboring villages for ownership of a good water lake at their shared boundary.
Twenty years pass, Paari grows up and yet there is no solution for this dispute.
Paari is in love with Thamarai (Anandhi), a childhood friend. 
Anandhi is the daughter of a rich mill owner, who is also the village councilor. Together with the president of the village, the councilor is determined that he will not share the water of their village lake with their less affluent neighbours. 
They deliberately contaminate the lake and this results in the death of a young boy, and several other villagers falling seriously ill. The villagers become very agitated and attack the president. Soon, it is an all-out war between the two villages.
The second half is all about Paari desperately trying to solve the issue without shedding too much blood.
Atharvaa, who was last seen as an urbane, stylish bike lover in his previous film,Irumbu Kuthirai is quite convincing as a simple villager. Be it romance or comedy, sentiments or action, he seems equally comfortable.
Anandhi, who played the titular role in Prabhu Solomon's Kayal also gives a good performance. She looks extremely young and pretty and the duo look good together.
Cinematography by  P G Muthiahi is one of the highlights of the film. His camera skillfully captures both the beauty and the brutality of the village and its inhabitants.  
The background score by N Arunagiri is loud and dramatic, but syncs with the overall ambience of the film. Even the songs are pleasant and well picturised with meaningful lyrics.
On the downside, however, right after the opening scene, the film veers off track, focusing solely on romance and comedy. The main issue takes a backseat, taking away some of the seriousness of the issue. The director has chosen not to dwell on the unpleasantness.
Nonetheless, at just under two hours, with a decent plot, some good performances and great visuals, director Sarkunam's Chandi Veeran is worth a watch.
Rediff Rating: