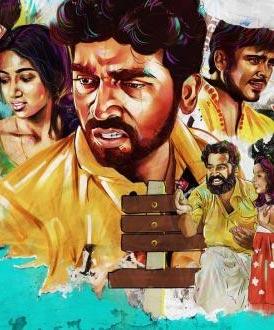 Bench Talkies is a very ordinary collection of short films, says S Saraswathi.
Karthik Subburaj stormed into the Tamil film industry with the hugely acclaimed Pizza, followed by the equally impressive Jigarthanda last year. 
This extremely talented director has now ventured into production. Just like his offbeat directorial efforts, his production banner, Stone Bench Creations, aims to be different. 
His first film titled Bench Talkies is a collection of six short films by independent filmmakers, compiled into a single movie.
Every film belongs to a different genre.
Karthik directs a film too, called Neer (Water) starring the popular Vijay Sethupathi. It is undoubtedly the pick of the lot. It is inspired by the senseless killings on the India-Sri Lanka maritime border.  
Three fishermen pay with their lives for attempting to venture into these troubled waters. Neer is brisk and to the point, as a short film should be.
Director Anil Krishnan's The Lost Paradise portrays the hope and anguish of a mute convict in search of his loved ones after a long prison sentence. There are no dialogues in the film, but it's a bit too heavy on the melodrama. 
Rathnakumar's Madhu is a lighthearted, one-sided love story, a miniature potboiler.
Monesh's Nallador Veenai deals with a more serious subject: warning parents to beware of manipulative paedophiles, who target vulnerable children while posing as respectable members of society. 
A young teenager is repeatedly molested by his teacher for seven years before he finds the courage to expose him. Set in a lower middle class milieu, the characters come across as authentic and the film keeps one engaged.
Puzhu is an interesting film by Charukesh Sekar. It opens with two severely injured men, lying at the bottom of a secluded hillside. Both struggle to stay alive, but ironically, it is the intense desire of each one to kill the other that keeps them alive. 
With dreams within dreams and absolutely no clue where reality begins or ends, Gopakumar's Aghavizhi or the Inside Eye is a confusing film. Shot from the perspective of three characters of a love triangle, the film, according to the director, reflects the collision of subconscious minds and its tendency to intrude into our real life.
Karthik Subburaj deserves credit for bringing recognition to short films and giving new age directors the opportunity to showcase their work. 
Unfortunately, it's a very ordinary collection of short films. They fail to impress, leaving you with a sense of dissatisfaction.   
Rediff Rating: