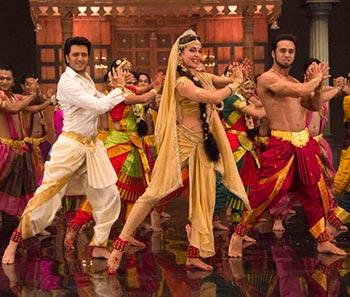 Bangistan has unconventional music but it doesn't impress, says Aelina Kapoor.
One expects a different kind of music from Ram Sampath, and his music for Bangistan is expectedly unconventional.
Newcomer Puneet Krishna is roped in to write lyrics for six songs of this Riteish Deshmukh, Pulkit Samrat and Jacqueline Fernandez starrer.
The album starts on a conventional tone, however. Dance number Ishq Karenge has its lead cast wearing costumes of different nationalities. But it does not go with the flow of the song and everything seems out of place.
Singers Sona Mohapatra, Abhishek Nailwal and Shadaab Faridi try to pep up the proceedings and that helps to some extent.
There is no sense in Ram Sampath and Abhishek Nailwal's Hogi Kranti.
Okay, so the song is a spoof of sorts with terrorism being glorified. Also, the film is a satire on terrorism. Still, with a good part of the world being impacted by terrorist attacks and children expected to pick up songs in a jiffy, one feels Hogi Kranti -- despite its attempt to go comic -- is rather ill-placed.
Singers Aditi Singh Sharma, Benny Dayal, Neeraj Shridhar and Janusz Krucinski come together for Saturday Night which, after a few listenings, comes across as a peppier version of Itni Si Hasi Itni Si Khushi (Barfi!). It's a fun party number but again, the picturisation kills the impact. 
One hopes that Maula, one of the few impressive songs in Bangistan, is not misplaced in the film and well picturised. Rituraj Mohanty and Ram Sampath sing with a lot of heart here and try to bring across the point of cultural and religious harmony.
Sampath takes on the mike once again, with Siddharth Basrur, in Meri Zidd. This may remind one of the song Kya Karoon O Lady Main Hoon Aadat Se Majboor from Ladies v/s Ricky Behl. Thematically, the song is in an entirely different zone as it is about a protagonist propagating about living life to the fullest.
Abhishek Nailwal gets his third song in the album with Is Duniya Se Ladna Hai. This time around, he has Suraj Jagan for company. This one is a situational number.
Bangistan neither starts nor ends with a bang.
Rediff Rating: