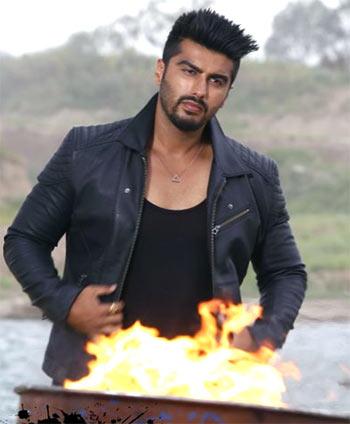 Namrata Thakker hopes the KKK 7 has some dhamakedaar stunts coming up.
Arjun Kapoor makes his television debut with the seventh season of adventure reality show Khatron Ke Khiladi, the desi version of Fear Factor.
Considering the show has been hosted by the likes of Rohit Shetty, Akshay Kumar and Priyanka Chopra in the past, Boney Kapoor's ladla beta had a lot to live up to, and seemed like quite a risk so early in his career.
So the big question is: Did Arjun's gamble pay off? 
To a certain extent, yes.
The 2 States actor is quite decent when it comes to hosting. The fact that he hasn't tried to copy Akshay or Rohit works in his favour. 
The way he and the contestants get introduced on the show is quite interesting. The audio-visual wherein Arjun's pals Ranveer Singh, Parineeti Chopra, Katrina Kaif and Varun Dhawan underestimate his hosting skills was fun to watch.
Arjun flirts with the female contestants, sings often and certainly brings in the filmi tadka with his witty one-liners. 
While AK did manage to pull off a few laughs with his comic antics, some of the jokes were forced and unnecessary.
Also, his chemistry with the contestants wasn't all there. He hardly encouraged the contestants when they had difficulty performing the tasks.
In the first episode, Arjun showed off his daredevil side and performed a few stunts. However, the second episode was all about hosting, which was a bit disappointing. After all, when you're hosting an adventure show, you gotta show some guts yourself, right folks?
In this season, the contestants have been divided into two teams. On winning a task, the teams earns points. The team with the lowest points goes into elimination zone. 
Himmanshoo Malhotra was the first contestant to bid adieu to the show. He was chosen by his team leader Tanishaa Mukerji for the elimination task along with Vivaan Bhatena.
However, I thought his nomination for the elimination task was not fair. Firstly, he never got the opportunity to perform solo. Secondly, he performed all the tasks well but his team lost because of the other members. 
So the new format isn't a favourite with me. The makers should have stuck to the earlier format where contestants played for themselves.
As for the tasks themselves, the opening episodes had nothing new to offer. Most of the stunts seemed familiar.
Still, the latest season of Khatron Ke Khiladi seems quite interesting. Here's looking forward to seeing the contestants perform some dhamakedaar  stunts.
Rediff Rating: 

Did you like the opening episodes of Khatron Ke Khiladi season 7?