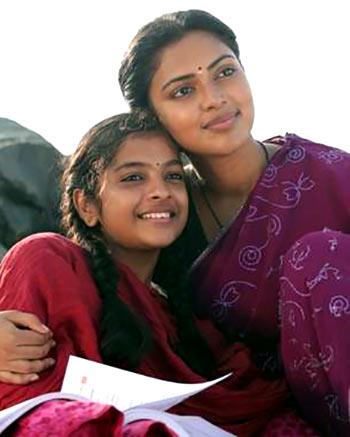 Some of the performances are ordinary, but even that does not affect the magic of this film, says S Saraswathi.
Amma Kanakku is the remake of director Ashwini Iyer Tiwari's critically acclaimed Hindi film, Nil Battey Sanatta, which released a couple of months ago. The Tamil version, also directed by Ashwini, is produced by Dhanush's Wunderbar Films in association with director Anand L Rai.
Amala Paul reprises the character played by Swara Bhaskar, who won many a heart with her wonderful performance in the Hindi version. Others in the cast include veteran actress Revathi, director Samuthirakani and child artist Yuvasri.
The film is a warm, light-hearted portrayal of the dreams and aspirations of lower-middle class parents for their children. While professional doctors and engineers would be proud to have their children follow in their footsteps, those working in menial jobs struggle to provide a better means of livelihood for their children.
Shanti (Amala Paul) is one such parent. She is a housemaid, who does not wish this life of poverty and despair for her only daughter Abhinaya (Yuvasri). She slogs from morning to night to give her an opportunity to escape this drudgery. 
But 15-year-old Abhi, in all her wisdom, argues that, like a driver's son will grow up to be a driver, she too is destined to be a maid like her mother.
She sees no point in stressing herself to get out of this situation, which she believes is hopeless. 
Shanti, however, feels that education is the key that will end all their troubles, but she is unable to get Abhi interested in her school work. Abhi barely manages to scrape through her exams; mathematics is her worst nightmare.
With her Class X board exam fast approaching, Shanti is desperate to make her daughter see sense. When everything fails, at the suggestion of one of her employers, played by Revathi, Shanti enrolls herself in her daughter's class. 
The idea is to prove to her daughter that nothing is impossible despite your station in life. A school dropout herself, Shanti works hard and soon starts scoring good marks, rousing her daughter's competitive spirit.
Embarrassed and angry, Abhi wants to prove herself, but only to drive her mother out of her school.  They have a bet and Shanti promises to quit school if Abhi can beat her at maths.
Who wins this intriguing challenge forms the rest of the story. 
Ashwini's poignant script keeps you hooked to the simple yet powerful drama that unfolds at its own pace.
What takes the film down a notch is the performance of its actors, who seem to be rather inconsistent. Both Amala Paul and Samuthirakani, who plays the maths teacher and principal of the school, are excellent actors but their performances appear stilted and artificial. 
Yuvasri is admirable, as is veteran actress Revathi.
Despite the ordinary performances, Amma Kanakku has a wonderful message and certainly deserves a watch.
Rediff Rating: